DO YOU NEED A SECOND PHOTOGRAPHER
Do you need a second photographer?
Well the answer really depends on your wants as a wedding couple. What you can live with and what you can't live without. Just how important those moments throughout that day are to you.
Why do I offer a second photographer?
This is my work preference. It allows the workload to be shared.

It takes the pressure off me during certain times of the wedding day.

It allows your timeline to be more flexible.

It allows for more moments to be captured and not missed.

It allows for more angles to be photographed.
Capturing an entire wedding day from beginning to end is not an easy task, especially if you are just one person, with one set of eyes. As the only wedding photographer, I obviously can't be in two places at once. I also don't have eyes in the back of my head unfortunately. For all of the reasons mentioned above, is why any package over 6 hours coverage includes a second photographer.
So here are some things to consider on deciding whether you need one photographer or two.
Ask yourself, does the groom want getting ready coverage? Is this important to you as a couple?
When you are dealing with one photographer for your day you have to realize your photographer can't be in two places at once. What does this mean for your timeline? Your timeline has to account for the time that the photographer is with you, the bride, as well as the time needed to be with the groom as he is getting ready. Normally I tell clients 4 hours for the girls (includes hair/makeup/getting into gowns) and 1 hour for the guys. What happens if the girls are not fully in their gowns by the time the photographer has to leave to capture the guys getting ready? Crunch time always happens while everyone is getting ready. The photographer will have to make a choice stay with the bride until she's fully dressed and ready which will diminish the time they have with the groom. Or leave the bride and miss those lacing up the gown moments to capture the groom and his groomsmen. With two photographers this is no longer an issue at all and the timeline diminishes from 5 hours needed to 4 at most, you've just gained an extra hour of coverage. If the bride and her girls are not fully ready my second photographer goes to the guys alone and I stay with the bride thus both being covered, no stressing over time, resulting in a more relaxed environment.
Ask yourself, are images of your groom watching you, the bride coming up the aisle important to both of you?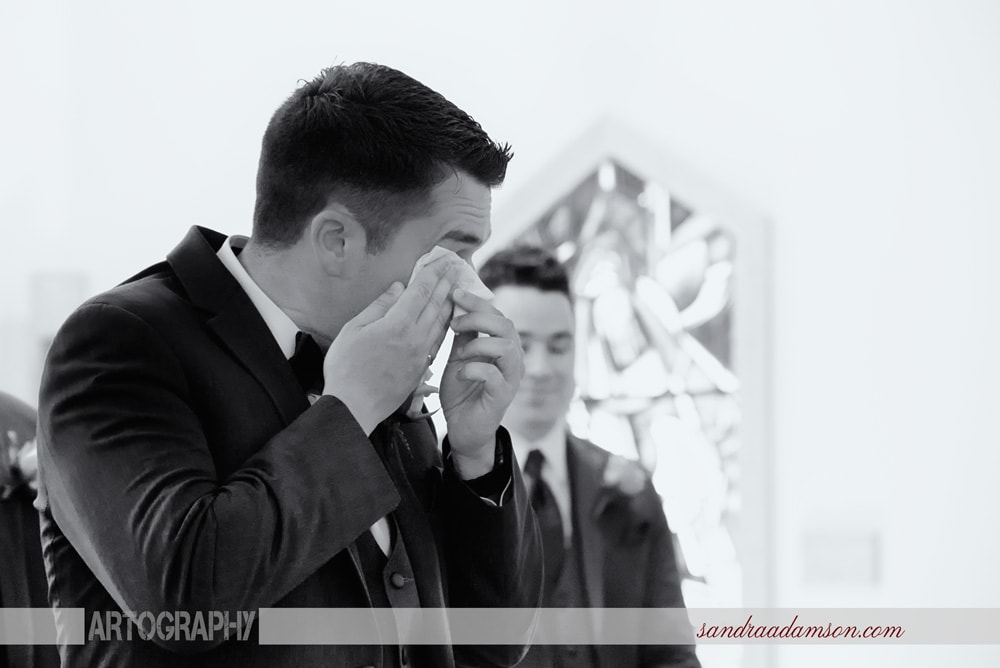 Again, one photographer, yes they can get these shots. But consider this, your photographer doesn't have eyes in the back of their head, they will turn as you are coming up the aisle to grab one shot of your groom looking at you…it could be the money shot or maybe his emotions haven't kicked in immediately. The photographer turns back to you as they need to fire off atleast 3-4 images of you walking up the aisle with your father to ensure they don't have eyes closed in this important image. If it's a short aisle they won't have time to turn and take another photograph of the groom, they may not even have time to turn to get one image before you and your father are on the photographer-this has happened to me years ago..real world examples. While there back is turned to the groom…I can assure you they are missing amazing moments. While there back is turned towards you, the bride, I can assure you they are missing amazing moments of you coming up the aisle. I know this, I've been there, I've done it. With two photographers, my second photographer is focused on the groom missing not a single moment of his emotions while you walk up that aisle. At the same time, I am focused on you, missing not a single moment of your walk up the aisle with your father. Not only that but both of us are getting amazing moments of your father giving you away from two different angles. Most likely your back will be to me, you fathers face to me as I shoot. While your face is to my second photographer and your father's back is to my second photographer, we are both shooting. One photographer can't get these angles.
Ask yourself, do you want images of your guests watching and reacting to the ceremony?
When you are one photographer, your main goal is to capture the bride and groom. They are your sole focus throughout the entire day. When you have two photographers they can split the workload. With two photographers throughout the ceremony, photographer one is focused on the bride and reactions from the audience, photographer two is focused on the groom and reactions from the audience. With one photographer, remember they are just one person trying to cover everything, the bride, the groom and guest reactions. This also holds the same during speech time.
Ask yourself are more angles important to you?
The best example I can give for this…my second photographer and I were covering the first dance for a couple. We shoot at a 45 degree angle to each other. I had the wrong angle and could not have captured this photograph as the bride's back was to me, my second photographer had the angle needed. Had it been just me, it is quite possible, that I may not have been in the right place at the right time to capture this moment and it is an amazing moment in my eyes.
Love what you've seen? Let's chat!!!!