This year I had the absolute pleasure of photographing my very first LGBT engagement session and to say I was excited about the opportunity would be a huge understatement. One thing I love about photographing couples is how unique and different everyone I meet is and I love unique and different!!!  No two couples I meet are ever the same personality wise and I love just how unique their images turn out. I am not one for posing infact I hate posing people. I prefer to direct my couples and allow them to fall in to place naturally. When this happens I can feel the love they have for each other, how their personalities shine together, all this just by how they interact with each other and it really truly does make for the best images!
I am even more excited about photographing their wedding in 2018 infact I can barely contain my excitement I just wished I didn't have to wait sooooo long. Shauna and Suzanne also decided on a location I had never shot at which just made it even better for me, the Musquidoboit Train Museum and I just LOVE their images. Without further adhue here are some of my favorite images from their engagement photography session.
My absolute FAVORITE image from their session, I changed the railway crossing sign to sole mates crossing at their requests and I absolutely LOVE it.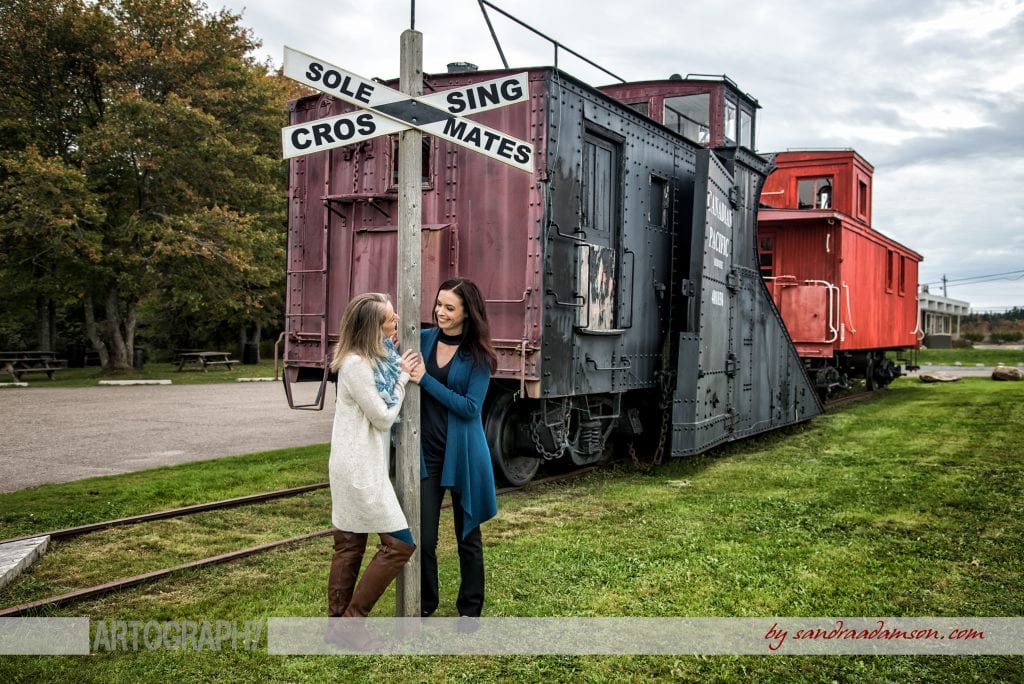 Life's priceless moments happen but once, it is my goal to create artwork for your family heirlooms that will last forever. Priceless are the moments in your life, capturing those moments for a lifetime is my passion. The wedding photography artwork I produce for clients will keep those memories alive for generations to come. The utmost care is taken with every image, retouching, color correction, and many enhancements to make your images stand out on the walls of your home.
Sandra Adamson photography and design is a Halifax, Nova Scotia based Wedding Photographer, who offers fine artwork portrait photography services to the Halifax Nova Scotia metro area. www.sandraadamson.com